Reflection/Extension
Reflection/Extension
- 1983-1984
Reflection/Extension is an installation of 232 mixed media paintings on paper and Mylar, a set of metal numbers (0 to 89) and a metal stencil "zero." Most sheets are 16x 20 " modules with a few larger images based on a module multiple. Glassine paper or translucent Mylar "skirts" float over some panels which are, like the paper pieces, pinned to the wall with aluminum pushpins. There is a full-scale cardboard replica of a rowboat.
Most images are drawn within an oval mirror or face form derived from the Florentine museum La Specola, a "mirror" of anatomy that informed White Raiser. The Fibonacci number series (0,1,1,2,3,5,8,13,21,34,55,89), created by adding the previous two numbers, holds disparate elements together without narrative connectors.
R/E is derived from the life of Dorothy Thomas, who I knew in her later years at her water-access only homestead at Refuge Cove, West Redonda Island, B.C. While revisiting her site after her death, I noted her old rowboat and a "Oyster Culture" sign on the beach below her house near fragments of a broken blue bowl and the desire to re-assemble the "Dorothy Culture" assailed me and would not let go. The Dorothy "dig" revealed artifacts relating to her last partner Ed Thomas who had built the boat and two previous husbands.
Is there a story? About Dorothy? Certainly. With three husbands, the last not, as her enemy told me, not a "married" husband and, as I later discovered, a bigamist which is a story itself, the "Dorothy Culture" has depth enough. But, the work can be read as an archeology of the ordinary with the artist as juggler, reader and delineator of shards and what that process means as form. La Specola's double mirroring form, in which one mirror reflects the thing seen and the second mirror reflects that reflection, formalizes a how of seeing and reproducing.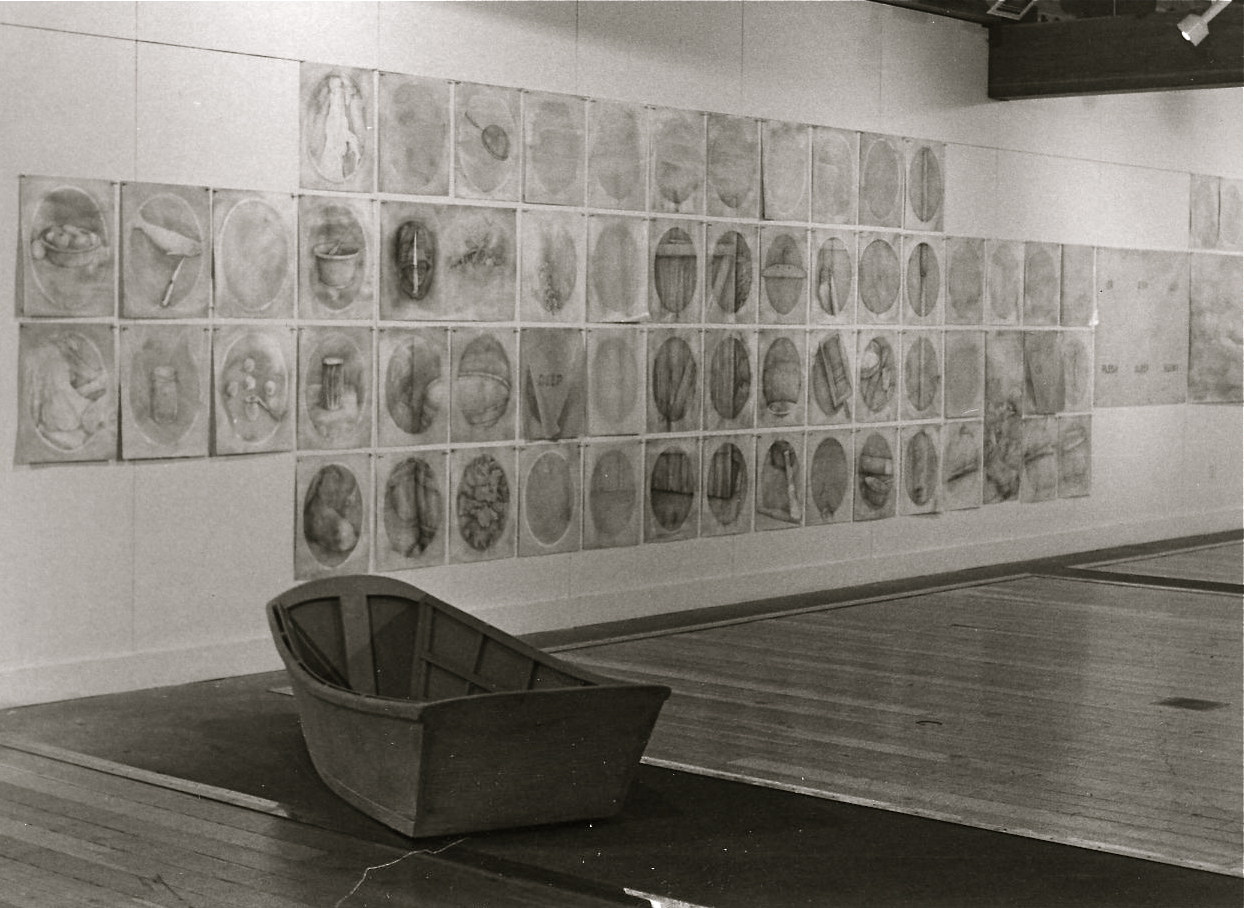 Reflection /Extension's elements were designed to be recombined in different spaces. It was shown at The Surry Art Gallery,1983, The Charles H. Scott Gallery,1984, excerpted at the Art Gallery of Greater Victoria, 1985 and installed in the Capilano Review (ISSN 0315-3754, 1984) who reproduced a section of "Stretch" as a print.
Collection: Carleton University Art Gallery.
Catalogue: Reflection/Extension, Charles H. Scott Gallery, 1984
Review: "Judy Williams", Anne Rosenberg, Vanguard, June 1884.
*260 studies and paintings were made and some smaller sets exist as separate entities: Collections: M. Rowan, Stuart Haynsworth, Norm and Denise Gibbons, M. E Williams, Skip McCarthy, Inez White & Hannes Grosse.
Installation Slide Show